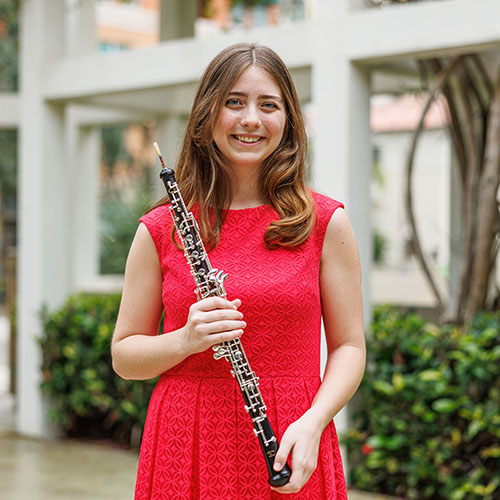 Le Palm Beach Symphony a récemment honoré Santaluces High School Sr. Dion Sellitti, un résident de Boynton Beach, avec le prix Lisa B-Major 2021-22. Ellen Dahlstrom de Wellington a été honorée en tant que finaliste.
Sellitti recevra un saxophone baryton Selmer Paris Series II Jubilee Model dans le cadre du programme, qui reconnaît un instrument de niveau avancé qui peut être utilisé pour les auditions universitaires et commencer une vie dans la musique.
Sellitti a représenté le comté de Palm Beach dans les groupes FBA All-County, All-County Jazz Bands et All-State Symphonic Bands. Il a passé des auditions à l'Université de Miami, où il pourrait un jour étudier avec le directeur musical du Palm Beach Symphony, Gerard Schwarz. Sellitti a déclaré que son objectif était d'obtenir une maîtrise en interprétation et éventuellement de rejoindre l'un des groupes des forces armées.
Le gagnant a été annoncé dans la légendaire salle de bal vénitienne du Breakers Palm Beach lors du 20e gala annuel du Palm Beach Symphony à guichets fermés. Sellitti a ravi les invités du gala avec la suite pour violoncelle #1 Gigue de Bach.
Dahlstrom, étudiant à la Dreyfoos School of the Arts, a reçu des prix supérieurs en solo et en ensemble. Comme son père, Todd, qui est membre de l'orchestre symphonique, elle est bénévole et a fondé Young Musicians of the Palm Beaches pour offrir des opportunités de performances communautaires rémunérées aux étudiants en musique du comté de Palm Beach.
Dahlstrom a occupé plusieurs postes dans le département de bande du lycée, notamment celui de bibliothécaire, vice-président et président. En guise de récompense, elle a reçu un hautbois professionnel en grenadille Howarth XL-VT à utiliser lorsqu'elle poursuit ses intérêts pour la musique classique et fréquente l'un des prestigieux conservatoires du pays.
Les gagnants ont été déterminés par audition, les finalistes participant à une interview et interprétant deux œuvres musicales contrastées devant un jury. Les deux étudiants ont travaillé en étroite collaboration avec le Palm Beach Symphony pour identifier, tester et sélectionner leur instrument idéal.
Sellitti et Dahlstrom participeront à un concert gratuit en plein air à l'amphithéâtre Meyer le samedi 21 mai avec des musiciens symphoniques et des étudiants de la Dreyfoos School of the Arts.
Les nominations pour les prix de l'année prochaine reprendront à l'automne. Les étudiants éligibles doivent être des finissants du secondaire d'automne et avoir de bons résultats scolaires qui ont l'intention de poursuivre des études de musique dans une université ou un collège. Les nominations sont reçues des professeurs de musique et des tuteurs privés et sont jugées sur les réalisations et les activités du candidat, ses projets musicaux futurs et ses besoins financiers.
Le Palm Beach Symphony est le premier orchestre du sud de la Floride, connu pour son répertoire diversifié et son engagement envers la communauté.
Pour plus d'informations, visitez www.palmbeachsymphony.org.