Après la chouette maladroite, l'écureuil choqué, le lionceau attrapeur de bijoux de famille, la tortue malpolie, c'est au tour d'un macaque en pleine douleur d'être sous le feu des projecteurs. Un peu plus d'un mois après avoir dévoilé les photos finalistes de son édition 2021, le concours des Comedy Wildlife Photography Awards a annoncé le nom de ses lauréats.
Cette année, c'est le photographe britannique Ken Jensen qui a décroché le premier prix grâce à son cliché d'un primate à califourchon sur un fil qui semble souffrir de ses parties intimes. Le cliché a été capturé sur un pont dans la forêt de Longsheng dans la province du Yunnan en Chine. Et il ne s'agit évidemment pas tout à fait de ce qu'il paraît.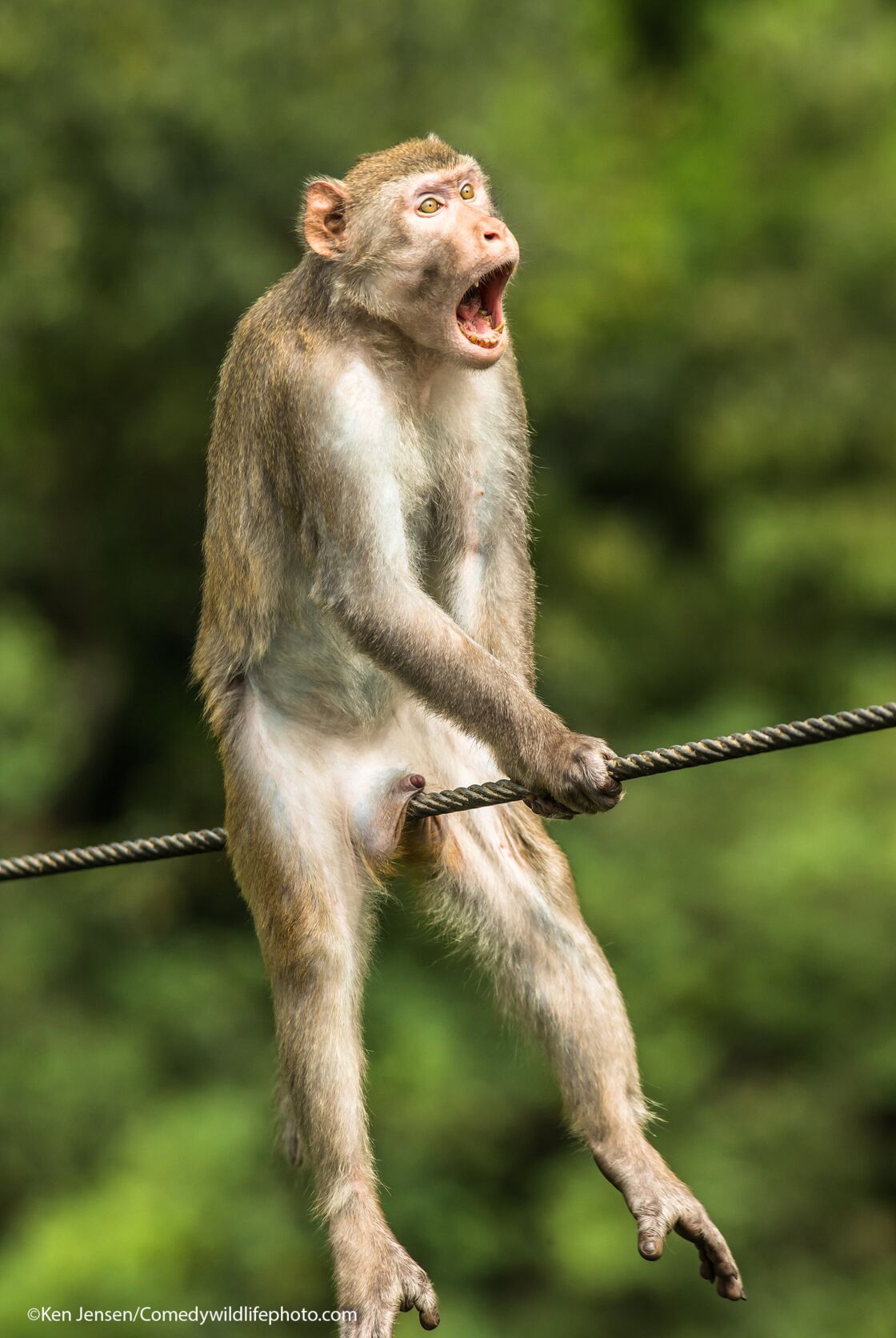 Ce jeune mâle montrait en réalité des signes d'agression. D'où son expression qui n'a donc rien à voir avec une quelconque douleur. Mais qu'importe, ceci a permis à Ken Jensen d'obtenir un portrait pour le moins cocasse. "J'ai été absolument ravi d'apprendre que ma photo avait gagné", a commenté le photographe repris dans un communiqué.
"C'est tellement une sensation extraordinaire de savoir que son image fait sourire les gens à travers le monde et aide à soutenir certains efforts de conservation incroyablement utiles", a-t-il poursuivi. Chaque année, cette compétition, soutenue par l'ONG Born Free Foundation, ne s'applique pas qu'à récompenser les clichés d'animaux les plus insolites capturés dans le monde.
Elle vise aussi à sensibiliser sur la situation préoccupante de la faune sauvage et à encourager le public à agir pour protéger les animaux et leur environnement. Pour cette édition, les organisateurs ont choisi de soutenir Save Wild Orangutans, une organisation qui œuvre à la sauvegarde des orangs-outans au sein et autour du parc national de Gunung Palung à Bornéo.
Un pigeon aveuglé et un éléphant en plein bain de boue
Outre Ken et son macaque souffrant, six autres prix ont été attribués par les Comedy Wildlife Photographer of the Year dont le prix du public, l'Affinity Photo People's Choice Award. Et c'est le photographe John Speirs qui a ravi le cœur des votants avec son pigeon attaqué par une feuille morte.
"J'ai entendu parler de la compétition il y a trois ans environ, puis un ami m'a encouragé à envoyer ma photo de pigeon parce qu'ils la trouvaient plutôt drôle… On dirait qu'ils avaient raison !", a réagi le Britannique qui vit à Oban en Ecosse. "Je voudrais remercier toutes les personnes qui ont voté pour moi et tous les autres finalistes".
Autres pépites photographiques : le cliché d'une loutre soulevant son petit qui s'est vu attribuer le prix de la catégorie des créatures aquatiques ou la série d'un éléphant profitant joyeusement d'un bain de boue qui a reçu le prix de la catégorie portfolio. Comme chaque année, une vidéo a aussi été primée : celle d'un martin-chasseur fonçant à pleine vitesse sur un congénère.
Découvrez les photos gagnantes et félicitées des Comedy Wildlife Photography Awards 2021 ou retrouvez les gagnants de la précédente édition.
A lire aussi :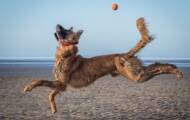 Ces photos d'animaux poilantes en finale des Comedy Pet Awards 2021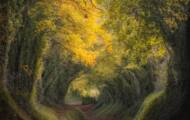 Ce concours récompense les plus belles photos de paysages du Royaume-Uni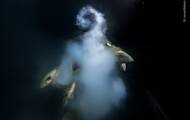 Les magnifiques photos de nature récompensées par le Wildlife Photographer of the Year 2021